101 Affordable Dramatic Play Costumes and Props for Kids
Related eBooks

101 Affordable Dramatic Play Costumes and Props for Kids
Teachers are you looking for smaller quantites of Dramatic Play props or costume parts with out spending a ton of money or buying 6 dozen more than you need? Check out the current inventory on Heart Felt Play Store.
Parents are you searching for one on-line store to purchase single items of affordable dress-up clothes or cheap Hallowen costumes that aren't creepy or fewer than a dozen party favors in the kids' favorite themes? Check out Heart Felt Play Store. Clickable links below take you directy to over 100 store products…more incoming…Watch us grow!

Heart Felt Play Store Kids love the Fun Collection. Moms and tachers love the affordable prices for conveniently gathered collection of kids favorite themes. Start earning COOL BEANS rewards now. https://heartfeltplaystore.nononcentsnanna.com/New inventory
New inventory is being added weekly to this one grandma operation. Tho' most Heart Felt Pay Store orders happily arrive within 3 to 5 days ( US only) pease allow up to 2 weeks for delivery. All order are mailed via USPS directy from Heart Felt Play Store home in Colorado. Made to order items will take a few extra days longer.
Heart Felt Play Store Dramatic Play Merchandise is for children OVER age 3.
1. Dinosaur Mask Set

2. Dinosaur/ Dragon Tails handcrafted special orders.

Hidden on all sales channels

3. Troll In the Pink: Troll Inspired Hair Headband

4. On the Farm Pig Noses: set of 3

5. Farm Animal Foam Visor: Pig

6. Old West Influenced Little Cowboy Vest and Chaps for Boys Made to Order

7. Jungle Animal Ears Headband and Socks: Zebra

Hand crafted ears.Socks are nearly sold out. Manufactured ears in stock on other caaog page.

8. Farm Animal Masks: Color Yourself

9. Dress-up Dog Ears and Nose: short pointed ears
10. Dress-up Dog Ears and Nose: Hound Dog Set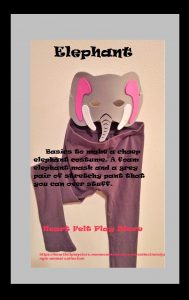 103. Elephant Mask & Grey Leggings Set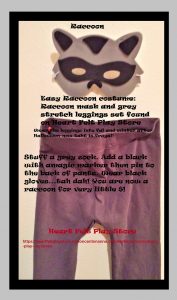 104. Raccoon Mask & Leggings Set
Original Post: 101 Affordable Dramatic Play Costumes and Props for Kids
101 Affordable Dramatic Play Costumes and Props for Kids
Source: NoNon-centsNanna.com